Key Saga IV – Return of Chaos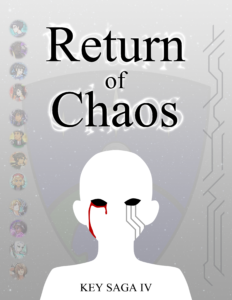 For the longest time, it was thought that the citizens of Earth were the only denizens of the galaxy incapable of developing superhuman abilities — but recent events have flipped that assumption on its head. Between Austin Travis, Mote Emerson, Pierce Bradley, and their friends, Earth is now host to 12 Chaotics… as well as a myriad of mysteries surrounding them. From a new nemesis in the form of a clone, to connections to ancient technology from a long-lost civilization, to the ability to summon powerful legendary weapons, these 12 Chaotics have unknowingly become entangled in something larger than any of them have ever imagined.
As if in response to these discoveries, the sinister machinations of galactic evil are churning. The metallic infection, a calamitous nanotechnology "disease" thought to have been vanquished 20 years ago, is slowly returning — and alongside it, a number of conflicts thought to be long past.
While they only seek to better grasp their own abilities, Earth's Chaotics will soon find themselves in the crossfire of returning threats and old heroes. These superpowered Earthians may not have chosen this path through life, but it will still be up to them to determine if history remembers them — to determine if history remembers the saga of the Keys.
---
The fourth novel in the Key Saga.